Arko ONE is a concept of big house boat on the basis of eco catamaran.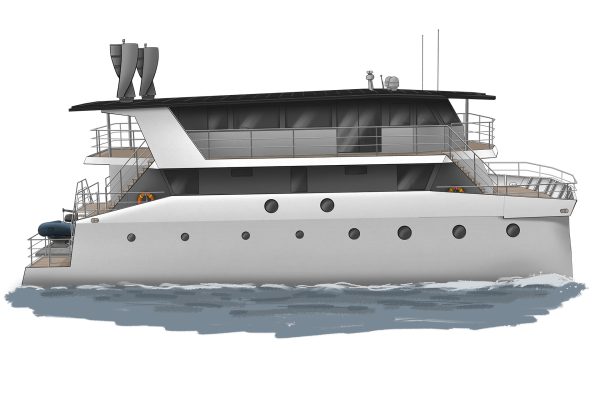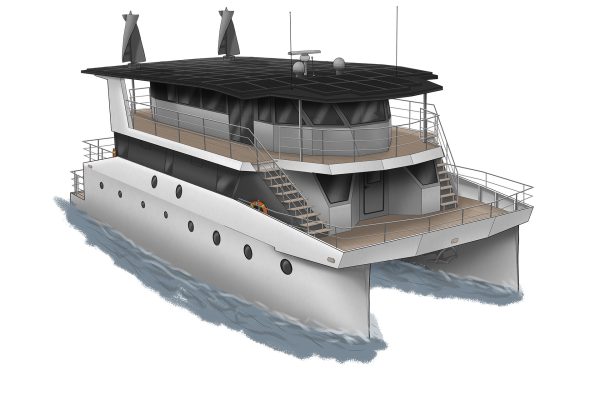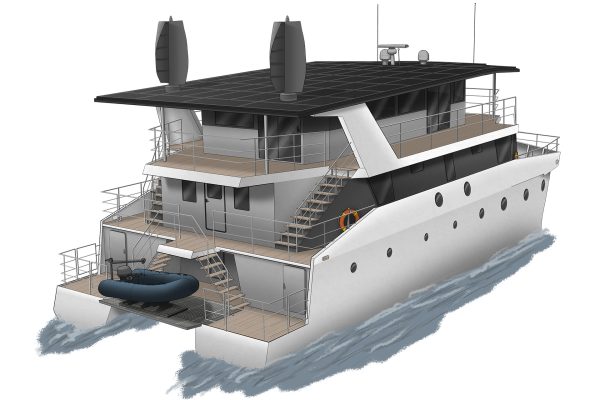 In recent years, house boat recreational units have been gaining more and more popularity.
They are units of various sizes, although we consider the vast majority to be small and light. Sometimes it's more a house, and sometimes more a boat. The common feature is to ensure the comfort of living as in a house with the possibility of moving this unit by water. Such units can be observed most often in inland navigation.
We decided to deal with this topic in our office as part of R&D in cooperation with Palasz Marine Projekt design office ( www.palasz-marine.pl ) which gives capacity in hull structure, outfitting, interiors and HVAC.
We assumed for the beginning that we will prepare a project that can be used in coastal shipping. The second important assumption was the maximum use of renewable energy sources to supply the unit, that is, according to trends, the largest possible reduction of harmful gas emissions. The third assumption was to design the hull in such a way that it was light and at the same time simple to build.
Despite the small size of the vessel, we used a whole set of computational methods and software available in our office for its design.
Software used for design is mainly Rhinoceross, Maxsurf, Femap and 3DBeam.
Hull shell curvature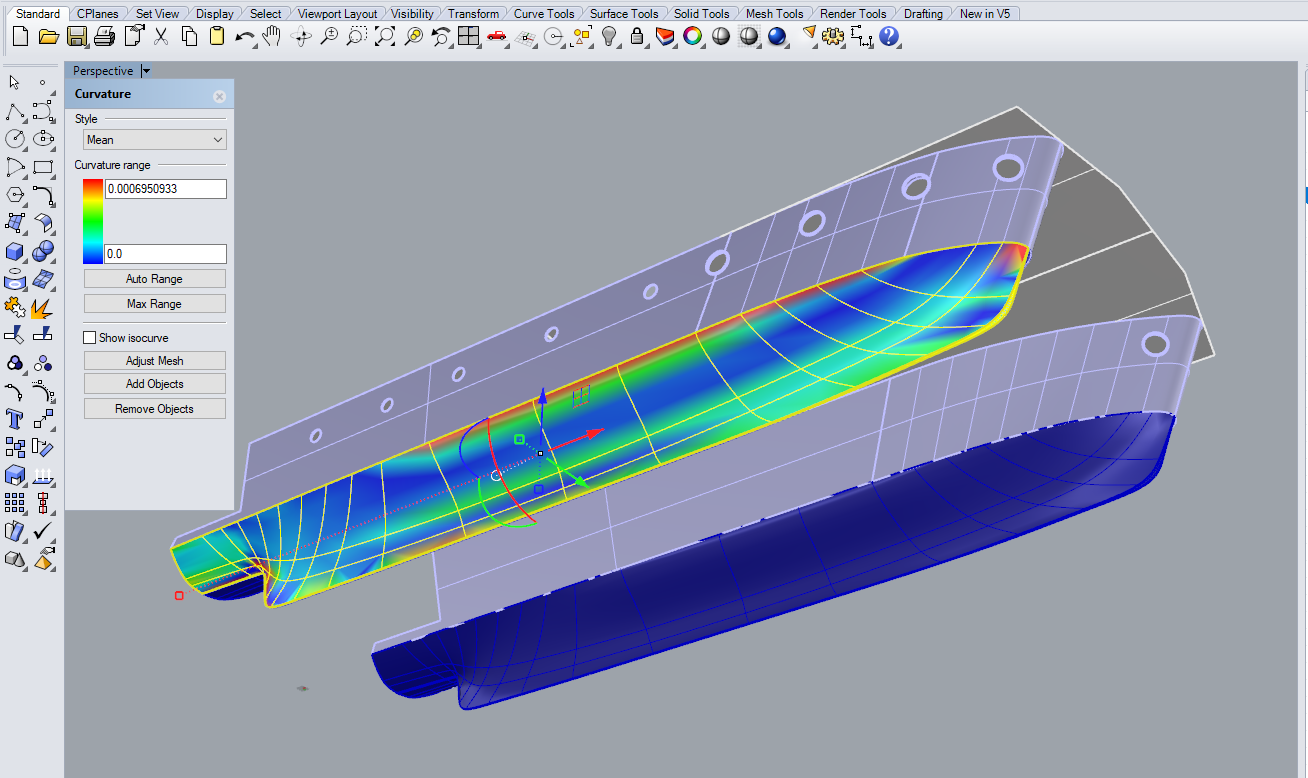 Hull structure without shell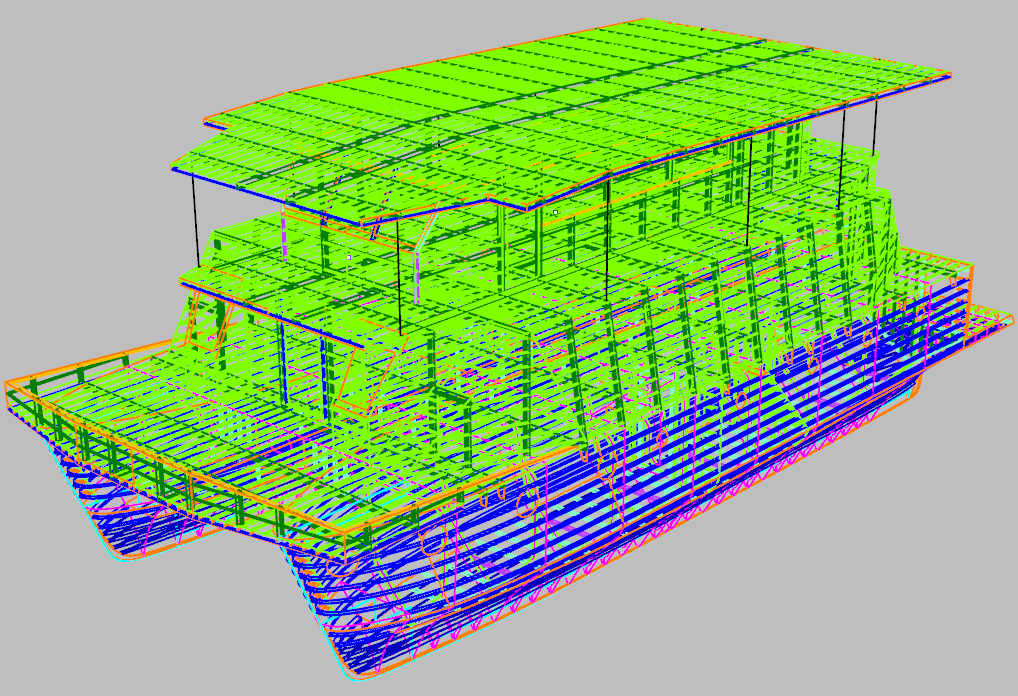 We put a lot of emphasis on optimizing the underwater part of the hull to use the most efficiently of every kW of available energy. We supported using the CFD method.
The whole hull made of aluminum alloy was designed with the use of FEM tools to obtain the lowest mass while minimizing material weight and building costs.
Power is generated by solar panels and wind turbines located on the roof. Energy is stored in a Li-ion battery packs. In the case of adverse weather conditions, we predicted the possibility of using a combustion generator.
The entire energy management and vessel control system is invented so that it is as intuitive to the user as the operation of the smartphone.
Main dimmensions
Class: DNV GL (RU – HSCL)
+1A LC Battery Power E0
Loa = 21.10 m
B = 8.80 m
dmax = 1.40 m
Air draught = 10.8 m (incl. wind turbine)
Speed: max 12kn (4kn with use only solar panels and wind turbines)
2 x FP propeller + shaft line + electric motor
Deck area inside: 176 m2 (excl. engine, technical and wheel rooms)
Deck area outside: 102 m2
Roof area: 114 m2
Accomodation: 5 x 2 persons (bedroom with bathroom)
Arrangement of decks